Hits: 659
Halloween's all about a night full of fun and horror. Having fun with friends and family and going trick or treating it's a good time for all. There's always excitement in scaring people off; just kidding. Enjoy Unlimited With This :
5 Halloween Party Ideas
If your little one has an upcoming birthday this October, what better way to surprise them than an excellent Halloween-themed birthday party?
If not a birthday, our products can also be used for fantastic Halloween party invitations! Perhaps you are looking for decorations and a banger party too. We got to make sure yours is a full house.
Here are five amazing Halloween party ideas or themes you can choose from for your Halloween party.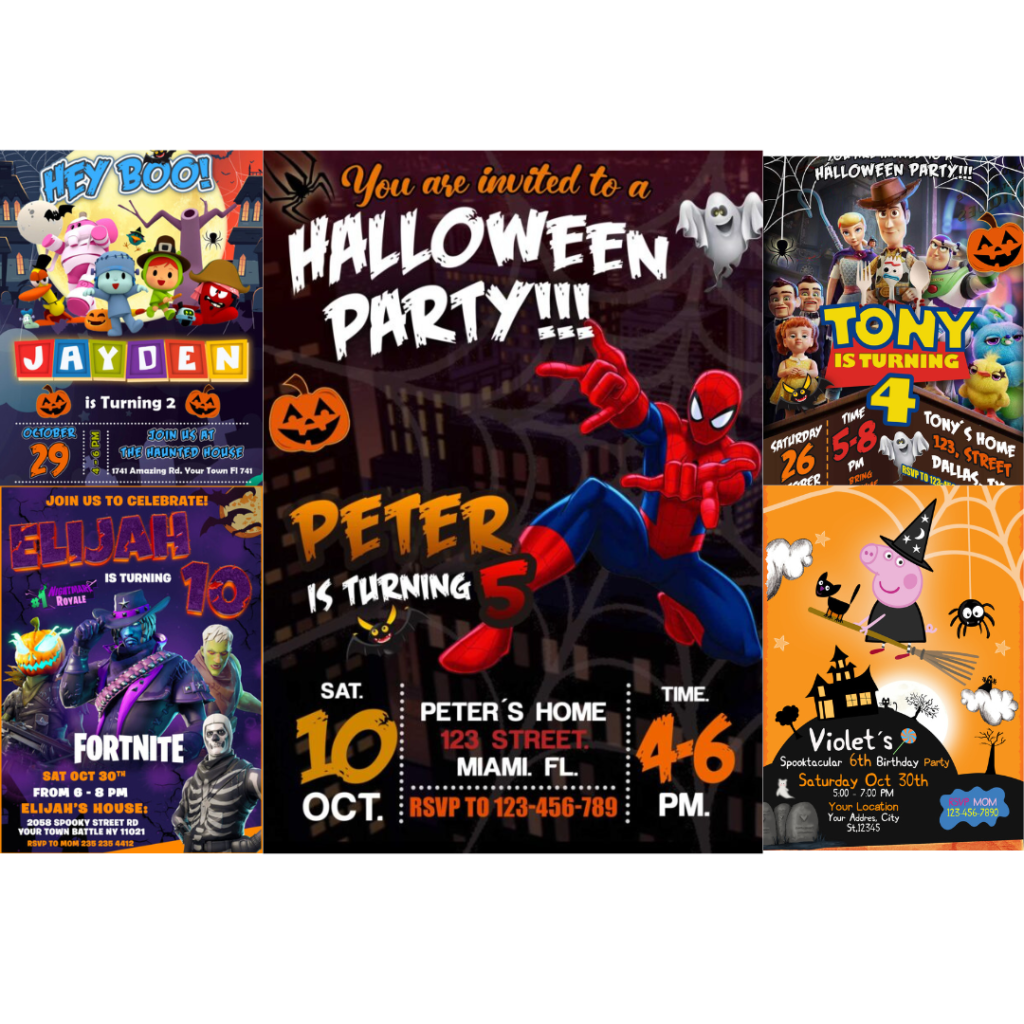 1. PEPPA PIG HALLOWEEN PARTY
Who doesn't like Peppa Pig? It's a classic for so many people. Peppa Pig is a pleasing mass media series, and by this, you can play it safe. You don't have to worry about offending anyone.
This party theme could be suitable for kids aged from 1 to 8. Colours could be black, orange, light brown, and even pink! Having a balance between dark and vibrant colored decorations is recommended.
2. SPIDER-MAN HALLOWEEN PARTY
A spider-man-themed party could be a great idea, especially if you have MCU fans in the house. Peter Parker would be visiting them from Queens with treats. Better if the kids are wearing costumes to match the superhero too.
We all know our favorite hero in red and blue is a student by day New York warrior by night.
This Halloween party theme is suitable for kids three to 11 years, as many children below that may not have watched Spider man without being scared.
The colors would be red, blue, white, black, and pumpkin orange.
For decorations, red and white balloons are suggested, along with a superhero corner.
3. FORTNITE HALLOWEEN PARTY
If your little one is a gamer and loves Fortnite, you can close your eyes and choose this theme for Halloween. All the kids have played Fortnite at least once in their lifetime so that they won't be unfamiliar with the theme.
The age range for this theme is nine to 14 years. Means, from children to early teenagers, would enjoy the party.
It would be more enjoyable to them if you get nerf guns for Fortnite. That way, the kids can have a nerf fight at the party.
Having dummy Llama, a corner where the kids do Fortnite dances and win vbucks, will immediately make them love the party.
The colors are dark purple, bright orange, white, black, green, and teal. Purple and orange-themed decorations will do wonders.
4. TOY STORY HALLOWEEN PARTY
Woody and Buzz's friendship is adorable. Woody was so scared of being replaced when in reality, that man had just found his best friend. This party theme could be good for kids aged one to 8 years old.
You could get a toy story-themed cake, even if it's Halloween. Or go for Toy Story-themed toys that can be found in your local super shops.
A yellow and blue balloon garland could be the showstopper of the party.
The colors recommended are light red, yellow, blue, white, and black.
Toy Story-themed showpieces or paper pieces are suitable for decorating with inflatable toys.
5. POCOYO HALLOWEEN PARTY
Last but not least, here's a unique Halloween party idea: Pocoyo. Pocoyo is a Spanish English show originating from Spain, United Kingdom. The word translates to "little me."
Pocoyo's about a little boy who loves having adventures and exploring. The show lasted for five seasons and was a hit.
Likewise, Toy Story, Pocoyo-themed toys, or decorations won't be hard to find due to the show's popularity.
The age range for a Pocoyo-themed party is 1-8 years. The colors are white, light blue, pink, purple, green, olive, and red.
Balloons, decorated chairs, and theme-wise decors are recommended.
Final Thoughts
Finding the perfect theme for a kids' party is more challenging than for an adults' party. You must discover what the kids like and hope you can source the necessary items in time. Not to mention, the decor items for kids are pretty expensive.
We understand your problem, and that's why we handpicked the most amazing Halloween party ideas so that you can save yourself time and effort. Besides, our cards will be delivered to you within 24 hours or less. So, that's another thing to worry less about.

Place your order now, and your invitation will be delivered.
PS: Our products are all in digital print. No physical copies will be delivered.