Hits: 6
Ben 10 Party Birthday Centerpieces
8 Ben 10 party centerpieces
PRINTABLE DIGITAL FILE
Awsome Ben 10 party Birthday Decoration.
This product is for 8 Ben 10 Party birthdaydecoration centerpieces, 1 printable and digital pdf file that will be send personalized to your email after your purchase.
Each centerpiece is placed in a 8×11 inch size page.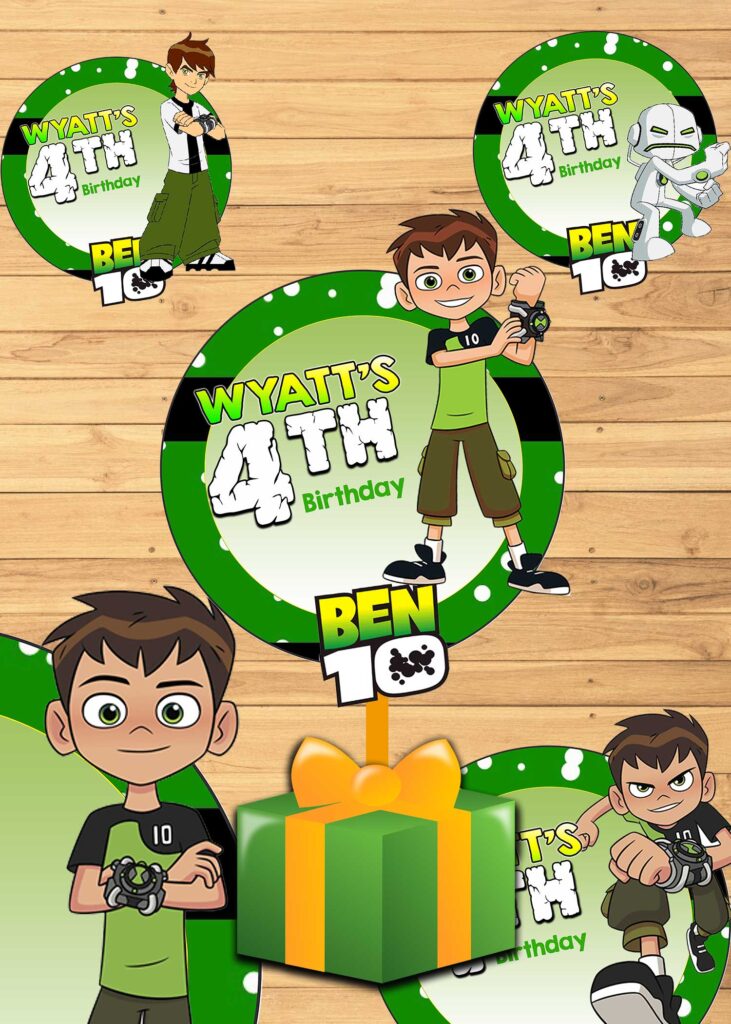 After a serious battle with the High Override, Glitch merges with the Rustbuggy and becomes part of the Tennyson family.
Ben gets frustrated when the Omnitrix reboots for a week, but it activates just as the Tennyson family is about to do some world traveling. Phil has created a helicopter called the "Omni-Copter" for the Tennyson Trio so they can travel around the world.
The reboot reveals three new aliens, Rath, Slapback, and Humungosaur, who replace Grey Matter, Overflow, and Wildvine. With Vilgax in the Null Void, Ben has a new enemy to fight: Kevin Levin, who has an Omnitrix of his own, called the "AntiTrix", which gives him access to altered versions of Ben's aliens.
A mysterious villain called the Forever Knight gathers up Ben's villains for a common cause. As revealed in the two-part finale Roundabout, his goal is to go back in time and prevent alien signals from contacting Earth.
Throughout the season, the Forever Knight tests Team Tennyson's enemies to determine those he needs for this goal: the final roster consist of Kevin, Charmcaster, Vin Ethanol, Billy Billions, Simon Sez, and a delusional Ben.
While searching for Ben, Phil gifts Gwen with a robot cat suit. Kevin, angry at the Forever Knight for discarding him, teams up with Gwen to help Ben prevent the Forever Knight from altering history. In the end, both Kevin and the Knight end up trapped through time and space.
Ben and Gwen make it back to the present and head back to America aboard the Omni-Copter alongside Grandpa Max, Phil, Vin, and Simon, the latter two being convinced to join Team Tennyson. Also, Billy and Charmcaster get taken into custody.
THIS IS A DIGITAL FILE. NO PHYSICAL ITEM WILL BE SHIPPED OR PRINTED.
My files aren't editable by anyone but me. You must send me the info and I will customize it for you and finally send it ready to print. I will send it ready within 24 hrs or less.
PLEASE DON'T FORGET TO ADD THE NAME AND AGE OF THE BIRTHDAY BOY/GIRL AT THE BUYERS NOTE WHEN CHECKING OUT – IF NOT PLEASE CONTACT ME AT MY PERSONAL EMAIL oscarfacal@hotmail.com
A High Quality 300 ppi JPEG Format file edited by me will be send to you via  email.
HOW TO ORDER?
1. Add item(s) to your cart and complete checkout.
2. Please add this information into your purchases notes or send it via email as soon as possible:
 Boy/Girl Name. – Age.
✿ You'll receive your high resolution PDF file to your email registered/used for your purchase (within 24 hrs or less)
✿ You can print it yourself or local photo lab or upload the file to an online print shop. It's very easy!
PAYMENTS
paypal.com payments plataform is active, you can pay at paypal.com without been registered and using your credit card.
HOW TO PAY AT PAYPAL.COM WITH CREDIT CARD
PAYING AT PAYPAL WITHOUT BEEN REGISTERED
▪▪▪ NOTICE ▪▪▪ ▸ Please note that colors may vary slightly from computer to computer and printer to printer.
▸ It's NOT INSTANT DOWNLOAD item.
▸ This is a digital purchase and no physical product will be mailed ▸ For personal use only!
Print the file as many as you want. Betetr use a carboard paper and use some wood stick to stand its on the table or de candies decroation.
If you have any questions, please send me an email message or contact me.
▪▪▪ COPYRIGHT ▪▪▪ We will inform to you that: ▸ This listing is for our design service and time spent to custom your item. ▸ All copyrights used belong to their respective owners and are not being sold. ▸ All items purchased are for personal use only. ▸ Prohibited commercial use or resale.
▸ Our printable designs are intended for home printing. You can choose to have your invitations printed at a photo lab without any problems, but there are some photo labs that refuse to print images with copyright protection. If you choose to have them printed at a photo lab and they refuse to print them we will not issue a refund. ▸ When you buy any of our printable designs agrees to recognize these terms and conditions.
About Oscarsitosroom Centerpieces
Oscaristosroom's Centerpieces generally fit on a sheet of letter-size paper, recomended paper:cardboard or opaline; To be used after printing, they must be carefully cut leaving a white border around them, then glue them on a tall stick and they can be placed on the centerpiece of your choice, in case the mirrored image is required for the back of the centercenterpice, you must request it in a time not greater than 48 hours after it is sent.