Hits: 21
Beautiful Tinkerbell Fairies Birthday Invitation.
TINKERBELL FAIRES BIRTHDAY INVITATION PRINTABLE DIGITAL FILE
This product is for one tinkerbell fairies Birthday Invitation, printable and digital file that will be send to your email after your purchase.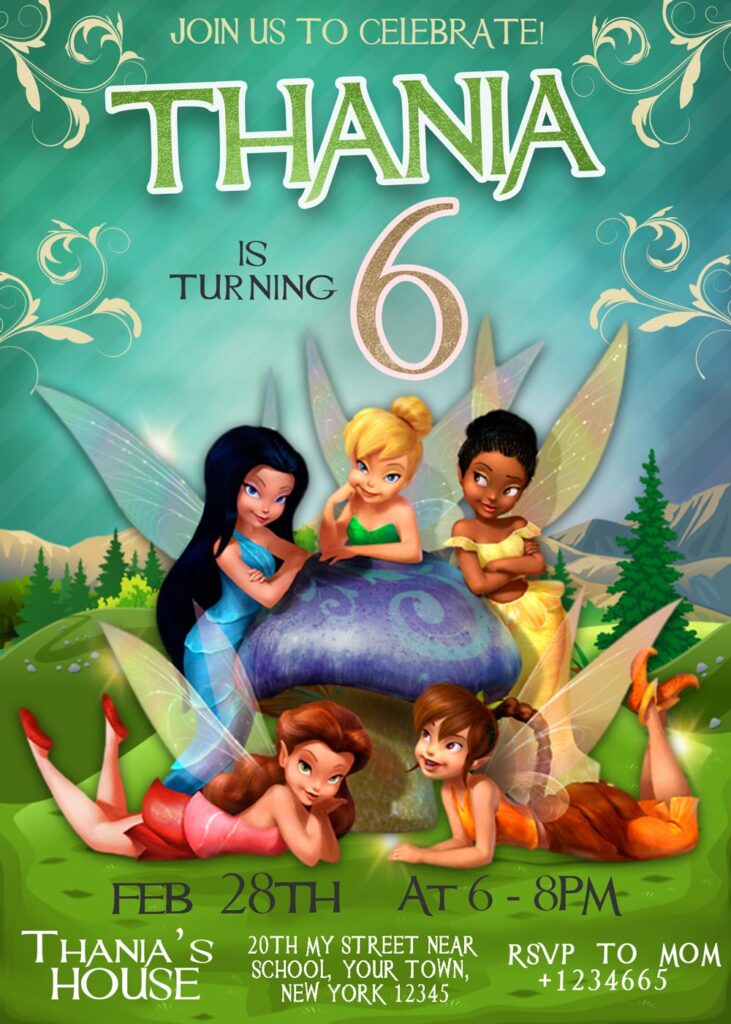 Tinker Bell (Mae Whitman) is born from the first laugh of a baby, and is brought by the winds to Pixie Hollow (which is part of the island of Neverland), and Queen Clarion welcomes her. She learns that her talent is to be one of the tinkers, the fairies who make and fix things. Two other tinker fairies, Bobble and Clank, show her around Pixie Hollow, teach her their craft and show her her house.
While out working, the trio are hit by sprinting thistles, a type of menacing weed. Tinker Bell meets Silvermist, a water fairy; Rosetta , a garden fairy; Iridessa, a light fairy; and Fawn , an animal fairy. They tell her about the fairies who visit the mainland to bring each season. Tinker Bell is thrilled and cannot wait to go to the mainland for spring.
THIS IS A DIGITAL FILE. NO PHYSICAL ITEM WILL BE SHIPPED OR PRINTED.
My files aren't editable by anyone but me. You must send me the info and I will customize it for you and finally send it ready to print. I will send it ready within 24 hrs or less.
A High Quality 300 ppi JPEG Format file edited by me will be send to you via  email.
PLEASE DON'T FORGET TO ADD THE PARTY INFO AT THE BUYERS NOTE WHEN CHECKING OUT – IF NOT PLEASE CONTACT ME AT MY PERSONAL EMAIL oscarfacal@hotmail.com.
DONT FORGET YOUR CHILD PICTURE, SEND IT TO MY EMAIL OSCARFACAL@HOTMAIL.COM
HOW TO ORDER?
1. Add item(s) to your cart and complete checkout.
2. Please add this information into your purchases notes or send it via email as soon as possible:
-Size of your invitation (4*6 or 5*7) – Boy/Girl Name. – Age. – Party Date. – Time. – Location. -Party address. – RSVP. -Adittional text.
✿ You'll receive your high resolution Tinkerbell fairies Birthday Invitation JPEG file to your email used for your purchase (within 24 hrs or less)
✿ You can print it yourself or local photo lab or upload the file to an online print shop. It's very easy!
PAYMENTS
paypal.com payments plataform is active, you can pay at paypal.com without been registered and using your credit card.
HOW TO PAY AT PAYPAL.COM WITH CREDIT CARD
PAYING AT PAYPAL WITHOUT BEEN REGISTERED
 NOTICE  ▸ Please note that colors may vary slightly from computer to computer and printer to printer.
▸ It's NOT INSTANT DOWNLOAD item.
▸ This is a digital purchase and no physical product will be mailed ▸ For personal use only!
Print the file as many as you want, or send it digital to your guests.
If you have any questions, please send me an email message or contact me.
 COPYRIGHT  We will inform to you that: ▸ This listing is for our design service and time spent to custom your item. ▸ All copyrights used belong to their respective owners and are not being sold. ▸ All items purchased are for personal use only. ▸ Prohibited commercial use or resale.
▸ Our printable designs are intended for home printing. You can choose to have your invitations printed at a photo lab without any problems, but there are some photo labs that refuse to print images with copyright protection. If you choose to have them printed at a photo lab and they refuse to print them we will not issue a refund. ▸ When you buy any of our printable designs agrees to recognize these terms and conditions.
Free translation
Our translation service is free but we need your help to do it, in some case we cand do it without help or using an online translation service, but in some case we need your help, please check our blog and take a look of our tranlsation works.
Photo Costumization:
In case you need to place your child picture on the invitation we can do it for you, frecuently is free but in some case it takes a lot of work, only in those case you should pay some extra.