Hits: 1263
Sonic Boom Birthday Invitation.
SONIC BOOM BIRTHDAY INVITATION PRINTABLE DIGITAL FILE
This product is for one Sonic Boom Birthday Party, printable and digital file that will be send to your email after your purchase.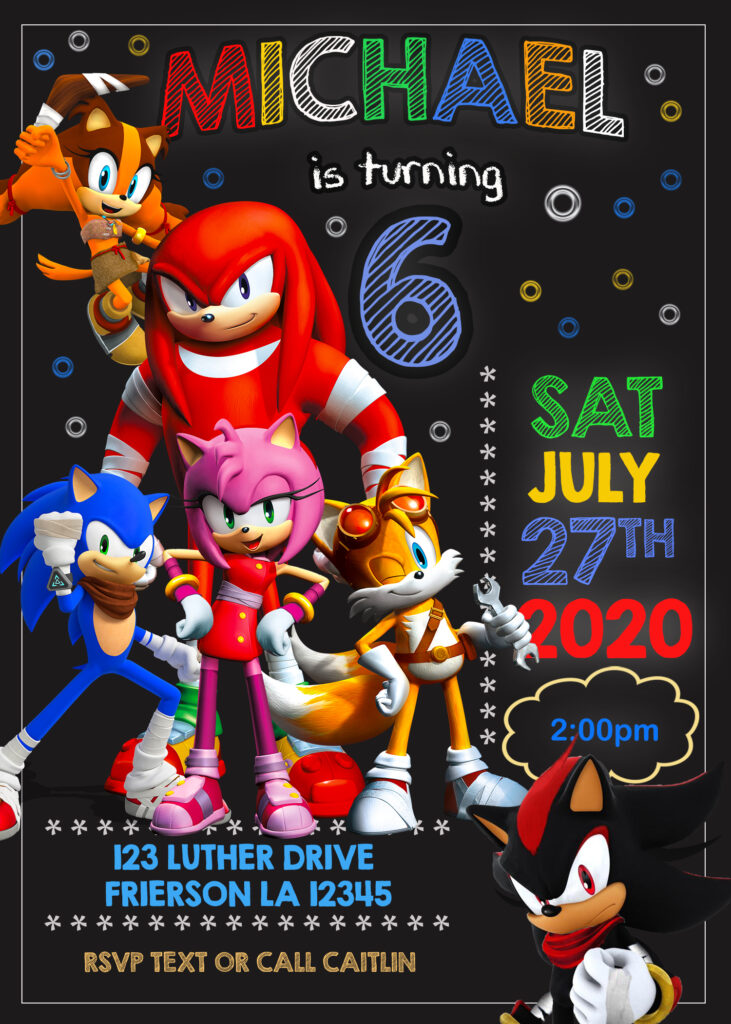 Sonic, Tails, Knuckles and Amy pursue Eggman until they encounter an ancient tomb with carvings of Sonic and Tails on the entrance. Sonic is stopped twice by Amy from opening the door, but when Metal Sonic ambushes the group, Sonic opens the door and the group escape.
Inside, they encounter an imprisoned, but powerful snake villain named Lyric the Last Ancient.
Lyric recognises Sonic from events transpiring one thousand years ago and captures the group, but Tails deactivates the shackles and turns them into beams named Enerbeams for the group to use.
After meeting Cliff, the group discovers that Lyric planned to power an army of war robots with the Chaos Crystals to create a world of twisted metal and robots, but was imprisoned by The Ancients when they discovered the plan; the group then set out to retrieve the Chaos Crystals before Lyric.
At an abandoned research facility, they meet MAIA, a robot who rebelled against Lyric, who assists them by creating a portal, allowing Sonic and Tails to go one thousand years back in time to retrieve a map showing the location of the Chaos Crystals.
Sonic and Tails are then attacked by Shadow, but defeat him, enter the portal, successfully retrieve the map from inside Lyric's weapon facility and trap him inside for future imprisonment by The Ancients.
HOW TO ORDER?
1. Add item(s) to your cart and complete checkout.
2. Please add this information into your purchases notes or send it via email as soon as possible:
-Size of your invitation (4*6 or 5*7) – Boy/Girl Name. – Age. – Party Date. – Time. – Location. -Party address. – RSVP. -Adittional text.
✿ You'll receive your high resolution Sonic Boom Birthday Invitation JPEG file to your email used for your purchase (within 24 hrs or less)
✿ You can print it yourself or local photo lab or upload the file to an online print shop. It's very easy!
PAYMENTS
paypal.com payments plataform is active, you can pay at paypal.com without been registered and using your credit card.
HOW TO PAY AT PAYPAL.COM WITH CREDIT CARD
PAYING AT PAYPAL WITHOUT BEEN REGISTERED
 NOTICE  ▸ Please note that colors may vary slightly from computer to computer and printer to printer.
▸ It's NOT INSTANT DOWNLOAD item.
▸ This is a digital purchase and no physical product will be mailed ▸ For personal use only!
Print the file as many as you want, or send it digital to your guests.
If you have any questions, please send me an email message or contact me.
 COPYRIGHT  We will inform to you that: ▸ This listing is for our design service and time spent to custom your item. ▸ All copyrights used belong to their respective owners and are not being sold. ▸ All items purchased are for personal use only. ▸ Prohibited commercial use or resale.
▸ Our printable designs are intended for home printing. You can choose to have your invitations printed at a photo lab without any problems, but there are some photo labs that refuse to print images with copyright protection. If you choose to have them printed at a photo lab and they refuse to print them we will not issue a refund. ▸ When you buy any of our printable designs agrees to recognize these terms and conditions.
Free translation
Our translation service is free but we need your help to do it, in some case we cand do it without help or using an online translation service, but in some case we need your help, please check our blog and take a look of our tranlsation works.
Photo Costumization:
In case you need to place your child picture on the invitation we can do it for you, frecuently is free but in some case it takes a lot of work, only in those case you should pay some extra.