Hits: 69
Dragon Ball Birthday Video Invitation
DRAGON BALL BIRTHDAY  VIDEO DIGITAL FILE
This product is for one Dragon Ball Birthday Video Invitation, the video will be emailed.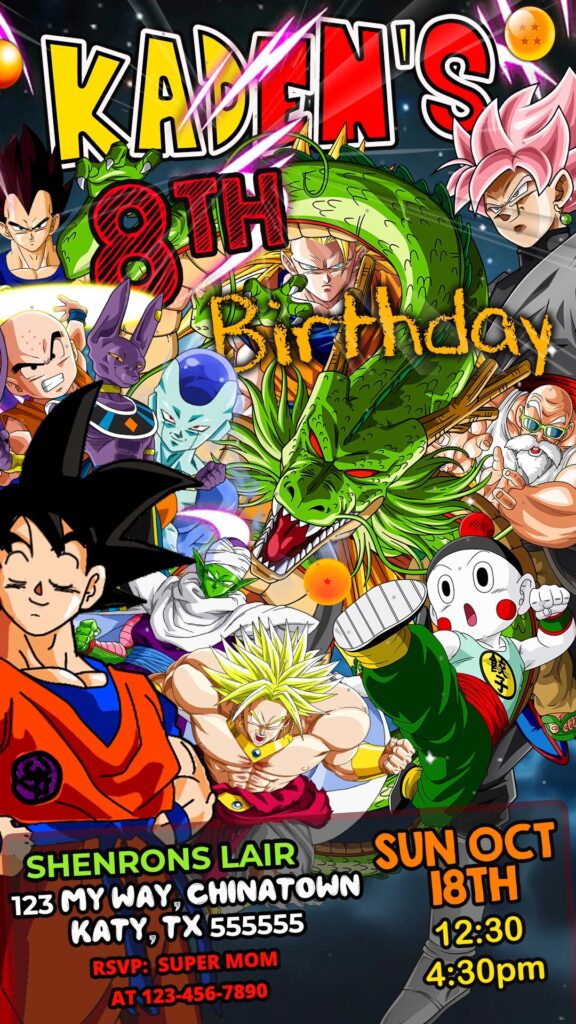 Dragon Ball Z picks up five years after the end of the Dragon Ball anime, with Goku now a young adult and father to his son, Gohan.
A humanoid alien named Raditz arrives on Earth in a spacecraft and tracks down Goku, revealing to him that he is his long-lost older brother and that they are members of a near-extinct extraterrestrial warrior race called the Saiyans (サイヤ人, Saiya-jin).
The Saiyans had sent Goku (originally named "Kakarot") to Earth as an infant to conquer the planet for them, but he suffered a traumatic brain injury soon after his arrival and lost all memory of his mission, as well as his bloodthirsty Saiyan nature.
Goku refuses to help Raditz continue the mission, which results in Raditz kidnapping Gohan. Goku decides to team up with his former enemy Piccolo in order to defeat Raditz and save his son, while sacrificing his own life in the process. In the afterlife.
Goku trains under the ruler of the North Galaxy, King Kai, and is taught the Kaio-ken (界王拳) and Spirit Bomb (also known as the Genki Dama (元気玉)) techniques, before being revived by the Dragon Balls a year later in order to save the Earth from Raditz' allies; Nappa and the self-proclaimed "Prince of all Saiyans", Vegeta, who arrive before Goku returns.
Piccolo is killed by Nappa during the battle, along with Goku's allies Yamcha, Tien Shinhan and Chiaotzu (with Chiaotzu sacrificing himself to save Tien), and both Kami and the Dragon Balls cease to exist as a result of Piccolo's death.
After Goku finally arrives at the battlefield, he avenges his fallen friends by defeating Nappa with his new level of power. Vegeta executes Nappa for his failure and does battle with Goku, but is ultimately defeated thanks to the efforts of Gohan and Goku's other surviving allies, Krillin and Yajirobe.
At Goku's request, they spare Vegeta's life and allow him to escape Earth, with Vegeta vowing to return and destroy the planet out of revenge for his humiliation at Goku's hands.
THIS IS A DIGITAL FILE. NO PHYSICAL ITEM WILL BE SHIPPED OR PRINTED.
My Files aren't editable by anyone but me. You must send me the info and I will customize it for you and finally send it ready to share. I will send it ready within 24 hrs or less.
A High Quality 300 ppi MP4 Format Video file edited by me will be emailed.
Video Duration: 0:30 minutes or more
File Weight aprox: 2-8 mb
Video resolution: 300 ppi
Video Size: 1080 * 1920 pixeles
Music (listen at youtube):Cha-La Head-Cha-La
PLEASE DON'T FORGET TO ADD THE PARTY INFO AT THE BUYERS NOTE WHEN CHECKING OUT – IF NOT PLEASE CONTACT ME AT MY PERSONAL EMAIL oscarfacal@hotmail.com.
HOW TO ORDER?
1. Add item(s) to your cart and complete checkout.
2. Please add this information into your purchases notes or send it via email as soon as possible:
Boy/Girl Name. – Age. – Party Date. – Time. – Location. -Party address. – RSVP. -Adittional text.
✿ You dont need to print it, just share via text phone, whatsapp. instagram, facebook, twitter, etc.
Your Dragon Ball Birthday Video Invitation Will be Emailed
PAYMENTS
paypal.com payments plataform is active, you can pay at paypal.com without been registered and using your credit card.
HOW TO PAY AT PAYPAL.COM WITH CREDIT CARD
PAYING AT PAYPAL WITHOUT BEEN REGISTERED
▪▪▪ NOTICE ▪▪▪ ▸ Please note that colors may vary slightly from computer to computer and phone to phone.
▸ It's NOT INSTANT DOWNLOAD item.
▸ This is a digital purchase and no physical product will be mailed ▸ For personal use only!
If you have any questions, please send me an email message or contact me via whatsapp.
▪▪▪ COPYRIGHT ▪▪▪ We will inform to you that: ▸ This listing is for our design service and time spent to custom your item. ▸ All copyrights used belong to their respective owners and are not being sold. ▸ All items purchased are for personal use only. ▸ Prohibited commercial use or resale.
▸ Our printable designs are intended for home printing. You can choose to have your invitations printed at a photo lab without any problems, but there are some photo labs that refuse to print images with copyright protection. If you choose to have them printed at a photo lab and they refuse to print them we will not issue a refund. ▸ When you buy any of our printable designs agrees to recognize these terms and conditions.
Free translation
Our translation service is free but we need your help to do it, in some case we cand do it without help or using an online translation service, but in some case we need your help, please check our blog and take a look of our tranlsation works.
Photo Costumization:
In case you need to place your child picture on the invitation we can do it for you, frecuently is free but in some case it takes a lot of work, only in those case you should pay some extra.
VIDEO INVITATIONS
In the age of technology and shortened distances, printing and mailing or personally delivering an invitation could be the most elegant and recommended way to invite your friends and family. But, sending a digital invitation can be the fastest, most efficient and entertaining thing to do. The amazing animated birthday invitations made by oscarsitosroom, fulfill all the desired characteristics in a good invitation, they have an excellent image quality, an excellent musical background, striking text and completely mobile characters. Your guests will be pleasantly surprised to see the animated birthday invitation that Oscarsitosroom made for your child's party.