Hits: 11
Free 9 Fortnite Cupcake Toppers
FORTNITE CUPCAKE TOPPERS FREE PRINTABLE DIGITAL FILE
This product is for 9 Fortnite Cupcake Toppers
This Product Is Avaliable for
FREE INSTANT DOWNLOAD!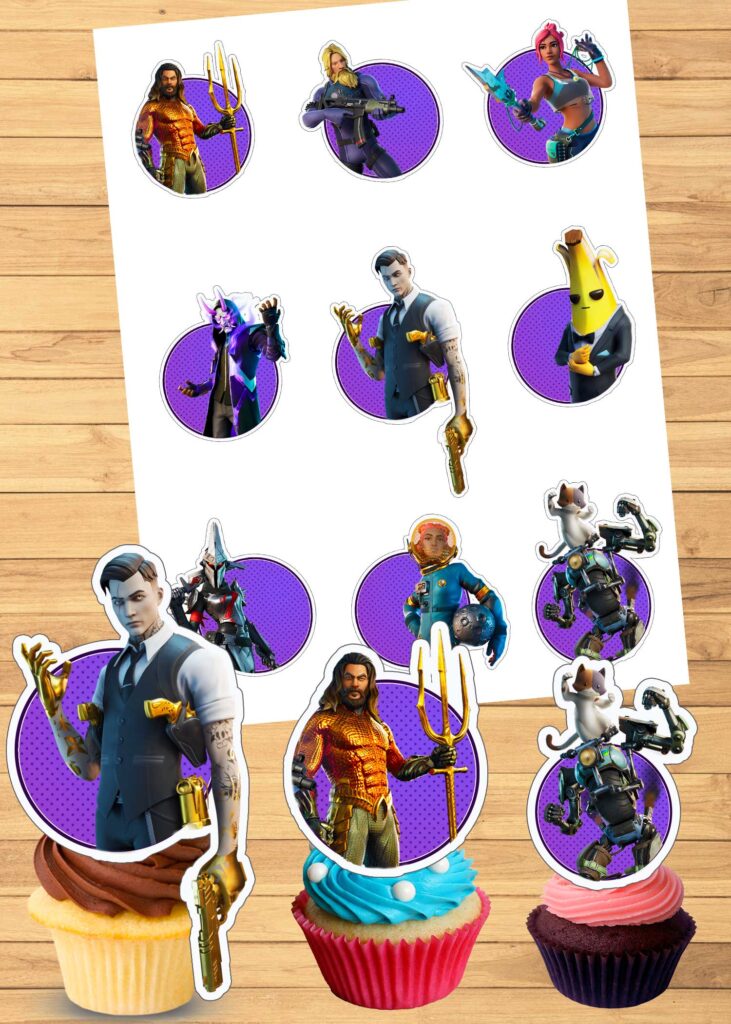 Fortnite: Save the World is a player-versus-environment cooperative game, with four players collaborating towards a common objective on various missions.
The game is set after a fluke storm appears across Earth, causing 98% of the population to disappear, and the survivors to be attacked by zombie-like "husks".
The players take the role of commanders of home base shelters, collecting resources, saving survivors, and defending equipment that helps to either collect data on the storm or to push back the storm.
From missions, players are awarded a number of in-game items, which include hero characters, weapon and trap schematics, and survivors, all of which can be leveled up through gained experience to improve their attributes.
Fortnite Battle Royale is a player-versus-player game for up to 100 players, allowing one to play alone, in a duo, or in a squad (usually consisting of three or four players).
Weaponless players airdrop from a "Battle Bus" that crosses the game's map.
When they land, they must scavenge for weapons, items, resources, and even vehicles while trying to stay alive and to attack and eliminate other players.
Over the course of a round, the safe area of the map shrinks down in size due to an incoming toxic storm; players outside that threshold take damage and can be eliminated if they fail to quickly evacuate.
This forces remaining players into tighter spaces and encourages player encounters. The last player, duo, or squad remaining is the winner.
Fortnite Creative is a sandbox game mode, similar to Minecraft in that players are given complete freedom to spawn everything that is within the game on an island, and can create games such as battle arenas, race courses, platforming challenges, and more.
THIS IS A DIGITAL FILE. NO PHYSICAL ITEM WILL BE SHIPPED OR PRINTED.
This file is a FREE instant download product you will be able to download inmediatly, just press on GET IT FOR FREE BUTTON.
Fortnite Cupcake Toppers size is 2″ inch diameter.
12 pieces  by letter sheet, there is 1 pdf file containing 9 Fortnite cupcake toppers for download.
HOW TO DOWNLOAD?
1. Just CLick On GET IT FOR FREE BUTTON
✿ You'll be able to download after.
✿ You can print it yourself or local photo lab or upload the file to an online print shop. It's very easy!
▪▪▪ NOTICE ▪▪▪ ▸ Please note that colors may vary slightly from computer to computer and printer to printer.
▸ It's an INSTANT DOWNLOAD item.
▸ This is a digital purchase and no physical product will be mailed ▸ For personal use only!
If you have any questions, please send me an email message or contact me.
▪▪▪ COPYRIGHT ▪▪▪ We will inform to you that: ▸ This listing is for our design service and time spent to custom your item. ▸ All copyrights used belong to their respective owners and are not being sold. ▸ All items purchased are for personal use only. ▸ Prohibited commercial use or resale.
▸ Our printable designs are intended for home printing. You can choose to have your invitations printed at a photo lab without any problems, but there are some photo labs that refuse to print images with copyright protection. If you choose to have them printed at a photo lab and they refuse to print them we will not issue a refund. ▸ When you buy any of our printable designs agrees to recognize these terms and conditions.