Hits: 1234
JURASSIC WORLD BIRTHDAY PARTY VIDEO INVITATION
JURASSIC WORLD BIRTHDAY PARTY INVITATION DIGITAL FILE
This product is for one Jurassic World Birthday Party Video Invitation, the video will be edited with your party info and send via google drive.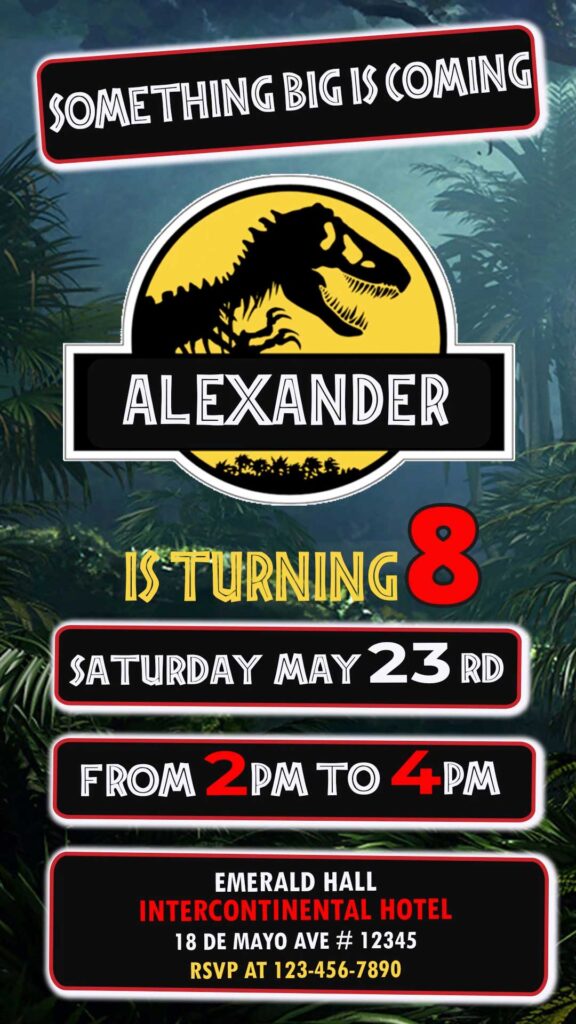 Brothers Zach and Gray Mitchell visit Jurassic World, a dinosaur theme park on Isla Nublar, of which their aunt Claire Dearing is the operations manager.
Claire assigns her assistant Zara as the boys' guide, but they evade her and explore on their own. Elsewhere on the island, U.S. Navy veteran and ethologist Owen Grady has been training four Velociraptors named Blue, Echo, Delta, and Charlie, and researching their intelligence.
Based on the raptors' ability to follow commands, head of InGen security Vic Hoskins believes that the animals can be weaponized, an idea Owen and his assistant Barry begrudgingly oppose.
Prior to its opening, Claire and park owner Simon Masrani inspect the park's newest attraction, the Indominus rex, a transgenic dinosaur created by geneticist Dr. Henry Wu.
Masrani tasks Owen with evaluating the enclosure. Owen warns Claire that the Indominus lacks social skills, making it dangerous and unpredictable. When it seems that the Indominus has escaped, Owen and two park workers enter the enclosure.
The Indominus, which can camouflage itself and mask its heat signature, suddenly appears. Owen survives, but it devours the other two men before escaping into the island's interior. Owen advises Masrani to have the Indominus executed, but to protect his company's investment, Masrani dispatches a specialized unit to subdue it with non-lethal weaponry, so it can safely be returned to its paddock. After most of the unit is slaughtered, Claire orders the evacuation of the island's northern sector.
THIS IS A DIGITAL FILE. NO PHYSICAL ITEM WILL BE SHIPPED OR PRINTED.
My Files aren't editable by anyone but me. You must send me the info and I will customize it for you and finally send it ready to share. I will send your Jurassic World Birthday Party invitation  ready within 24 hrs or less.
A High Quality  Jurassic World birthday party Video invitation 300 ppi MP4 Format Video file edited by me will be send to you via  email or whatsapp its a heavy file so cant be send via texting.
Video Duration: 0:30 minutes or more
File Weight aprox: 30 – 100 mb
Video resolution: 300 ppi
Video Size: 1080 * 1920 pixeles
Music (listen at youtube): Jurassic World
PLEASE DON'T FORGET TO ADD THE PARTY INFO AT THE BUYERS NOTE WHEN CHECKING OUT – IF NOT PLEASE CONTACT ME AT MY PERSONAL EMAIL oscarfacal@hotmail.com.
HOW TO ORDER?
1. Add item(s) to your cart and complete checkout.
2. Please add this information into your purchases notes or send it via email as soon as possible:
Boy/Girl Name. – Age. – Party Date. – Time. – Location. -Party address. – RSVP. -Adittional text.
✿ You dont need to print it, just share via text phone, whatsapp. instagram, facebook, twitter, etc.
PAYMENTS
paypal.com payments plataform is active, you can pay at paypal.com without been registered and using your credit card.
HOW TO PAY AT PAYPAL.COM WITH CREDIT CARD
PAYING AT PAYPAL WITHOUT BEEN REGISTERED
▪▪▪ NOTICE ▪▪▪ ▸ Please note that colors may vary slightly from computer to computer and phone to phone.
▸ It's NOT INSTANT DOWNLOAD item.
▸ This is a digital purchase and no physical product will be mailed ▸ For personal use only!
If you have any questions, please send me an email message or contact me via whatsapp.
▪▪▪ COPYRIGHT ▪▪▪ We will inform to you that: ▸ This listing is for our design service and time spent to custom your item. ▸ All copyrights used belong to their respective owners and are not being sold. ▸ All items purchased are for personal use only. ▸ Prohibited commercial use or resale.
▸ Our printable designs are intended for home printing. You can choose to have your invitations printed at a photo lab without any problems, but there are some photo labs that refuse to print images with copyright protection. If you choose to have them printed at a photo lab and they refuse to print them we will not issue a refund. ▸ When you buy any of our printable designs agrees to recognize these terms and conditions.
Free translation
Our translation service is free but we need your help to do it, in some case we cand do it without help or using an online translation service, but in some case we need your help, please check our blog and take a look of our tranlsation works.
Photo Costumization:
In case you need to place your child picture on the invitation we can do it for you, frecuently is free but in some case it takes a lot of work, only in those case you should pay some extra.
VIDEO INVITATIONS
In the age of technology and shortened distances, printing and mailing or personally delivering an invitation could be the most elegant and recommended way to invite your friends and family. But, sending a digital invitation can be the fastest, most efficient and entertaining thing to do. The amazing animated birthday invitations made by oscarsitosroom, fulfill all the desired characteristics in a good invitation, they have an excellent image quality, an excellent musical background, striking text and completely mobile characters. Your guests will be pleasantly surprised to see the animated birthday invitation that Oscarsitosroom made for your child's party.